The ultimate objective from your email marketing strategy should be before anything making your recipients feel like the email they just received from you was crafted, designed, and created just for them. If you succeed in making your recipient feel special, unique, and important through your email you probably connected with them on an emotional (even spiritual) level, and they probably would follow through on your call to action.
You simply won the game.
It doesn't matter how huge your email list is, every single one of your recipients must feel like they are the only important person in your list -sometimes in the world.
So the question that we are here to answer today, is how can we make each one of our customers feel special while we have one global basic message to deliver to 10,000 people? How can we announce an offer, a sale, or  an event to our customers and at the same time make each one of them feel like we created that offer only for their sake?
We have just the right solution for you! annoying commercial tone
Email segmentation has revealed itself to be one of the most efficient tactics in email personalization. In fact, according to the MarketingSherpa 2012 Email Marketing Benchmark Report, email segmentation is on the top objectives of 32% of marketer in order to improve their strategies in the next 12 months.
Email segmentation is basically dividing your email list into groups based on different characteristics, and based on that stratification you send emails that each groups would relate to and find more relevant and appealing.
It's basically making your email more and more narrow through narrowing your audience.
Why you need email segmentation
You might think my email list is not segmented and I still get good results from my email marketing campaign. Well the thing is, you can get much better than those good result, a great email marketer always strives for more quality, and even better results. If you're not doing it for your business, do it for your customers, the last thing they want is feeling that they are just another email address in your huge email database.
So here are three reasons that would maybe make you reconsider implementing email segmentation right away:
1. Better results:
You can spot the improvement that email segmentation has on your email campaign as soon as you hit the send button. According to The Lyris Annual Email Optimizer Report 71% of those who frequently implement list segmentation/targeting perceive the improvement that this tool has on their email marketing results. In fact, email segmentation is identified as the most effective email marketing technique.
According to the same source, users of email segmentation have witnessed a 39% increase in their open rates, their emails were 34% more relevant, and their unsubscribe/lower opt-out rate decreased by 28%, and it also increased many other of their email metrics as shown below.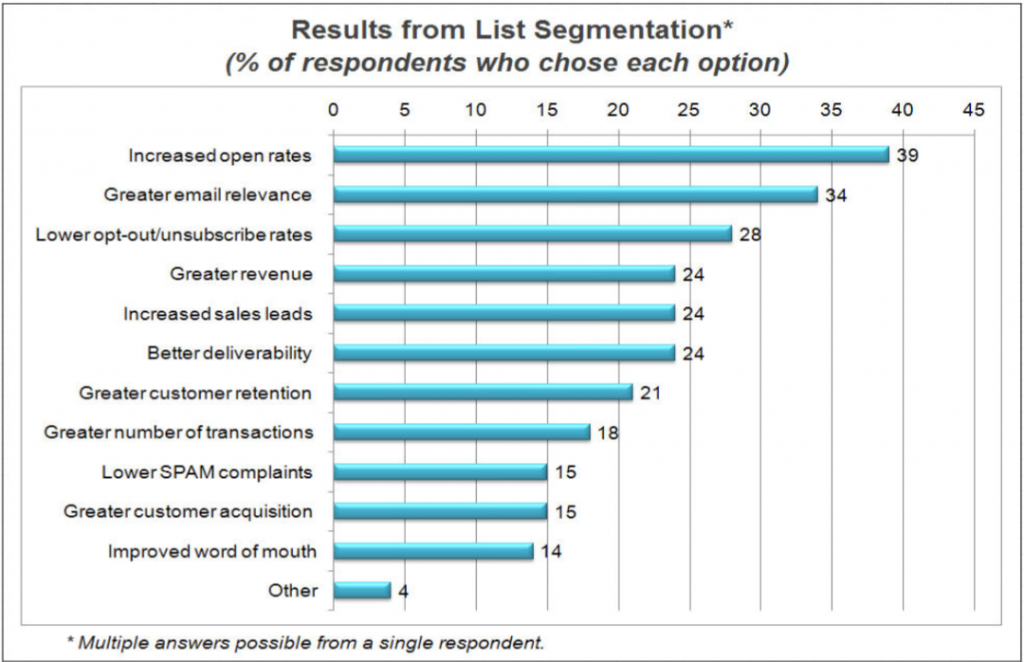 Don't forget to check our last blog post to know which metrics you need to focus on [depending on your email marketing objective.](http://blog.bounceless.io/build-grow-email-list/)
**2. Improve email deliverability **
It is now clear how email segmentation is magical in achieving greater results for your email marketing campaign. Additionally to the great improvement in your results, email segmentation helps you improve your deliverability and sender global email reputation.
The increase in your email relevance automatically decreases complaints and the spam folder. Moreover, email segmentation leads to a better knowing of your email list which means a clean and updated email list, which eventually leads to a decrease in bounces. More engagement also means higher click through rate and open rate. All of these metrics are taking into consideration by ISPs in order to assign your sender score.
3. Satisfied customers
When segmenting your email list you make sure that each one of your customers feels valued and cared about as they should be. You want them to feel that you know them, you know their needs, and you're there to respond to those needs. And also by segmenting your email list, you're saving your customers time and energy by offering them exactly what they needed, and this ladies and gentlemen is the best thing you can do to achieve the happiness of your customers.
And remember that a happy customer with a solved issue tells on average 4 to 6 people about their experience, so we let you do the math
How to segment your list:
So now you know how important email segmentation is to your business. Don't worry we're not leaving you here, we're obviously taking you step by step to the success of your email campaign. Here are the best and most efficient segmentation strategies that we found for you and that you can get started on right away. Sorted out by order of importance:
Demographics:
Sorting your email list based on demographics was proven to be the best way to achieve great results; 45% of the respondents to the study done by The Lyris Annual Email Optimizer assert that they prefer sorting their list based on demographics. You can know a lot about your customer's needs and interests through very basic information such as gender, age, location, education or income level. The more you know about your customers to more customised your emails can be.
The trick is to get as much information as you can from your audience in the sign up process -don't get creepy though- in order to have multiple options when getting to the segmentation phase
You can use tools like  Campaign Monitor to slice your email list depending on the category you want. It can make your segmentation process much easier than it seems.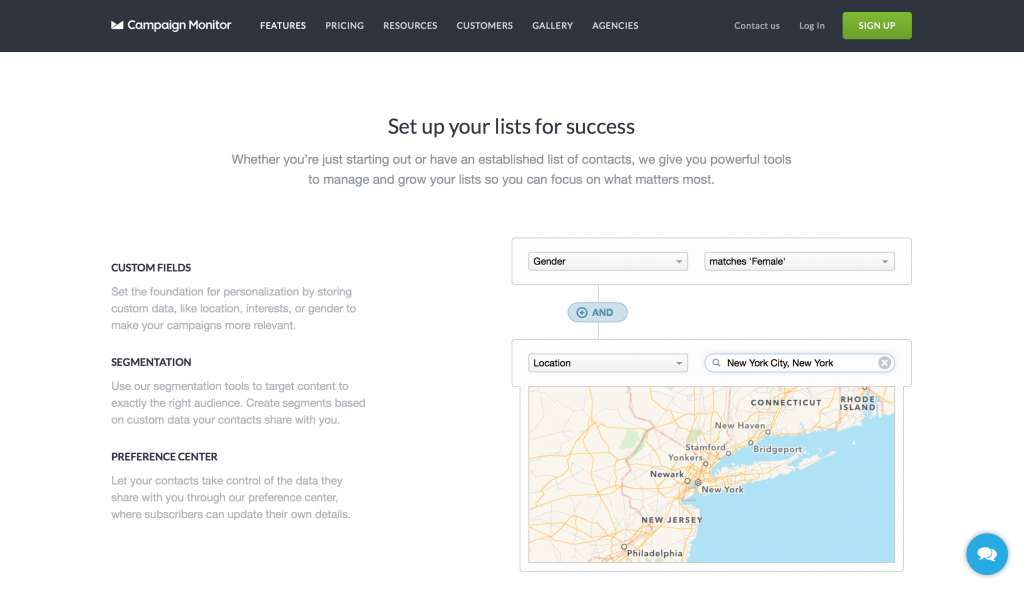 Purchase history
Purchase history is the second best stratification strategy with a percentage 28% satisfaction from email marketers. The easiest way to sort your list based on purchase history is to send out email recommendations for similar items or services that would match our customers past purchases. You basically predict your customers needs based on what they already purchased.
You can use the eCommerce360 plugin in MailChimp in order to have the purchase activity section in your email campaign reports.
Website activity
Website activity tracking is the next best way to segment your email list. Keeping track of your customers last visited websites is another way to know your customers interests and needs. It is impressive how easy you can today track your customers activity online, in addition to the pages they visited you can know the pages they didn't visit, the people who visited a page and missed another one, or even the videos they watched and didn't finish. You can pretty much take the stalking activity one step further.
Website activity allows to get so close to your customers to guess their interests and what email they would want to receive.
You can use tools like  BeamPulse, in order to know your customers scrolling behaviour, the specific icons they clicked, time they spent on a page or video and other information that would allow you to send them the exact email they've been waiting for.
Open Rates
Open rates can help you know the most engaged customers in your emails list. You can fragment your email list by dividing your email list into people who frequently engage with your emails and those who engage less.
You could use this information for example to send special rewards for your faithful readers. You want to let them know that you acknowledge, value and appreciate their engagement. You could send special opportunities or offers to those customers like beta access to your new program before the other customers know about it.
---
Besides those four ways to segment your email list, you can use other less commonly used strategies like job title, amount spent on purchases, or even send surveys to know more about your customers. In their research, [The Lyris Annual Email Optimizer Report](https://www.fulcrumtech.net/wp-content/uploads/2012/10/Lyris-Annual-Email-Optimizer-Report.pdf) have identified marketers' other favorite ways to segment their lists and that have proven their efficiency.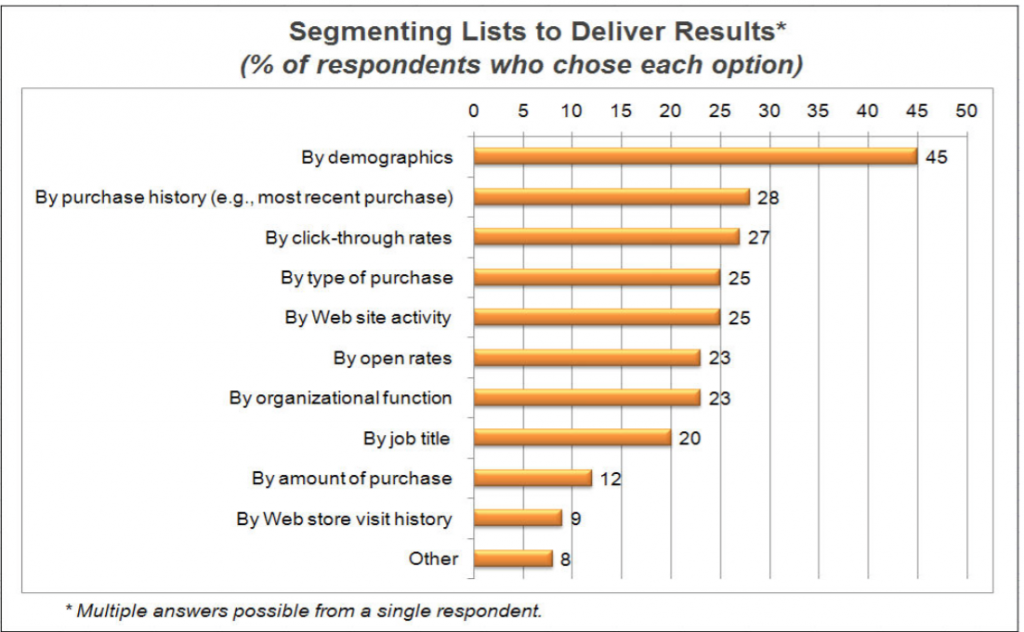 Email marketing segmentation is not some advanced complicated tactic that you would schedule for the next year for your business, it is only a few simple smart steps that distance you from the exponential improvement of your email marketing campaign and its guaranteed success.
You use other ways to segment your email list? Let us know about them on Twitter, Facebook or Linkedin.